Leveraging AI to give agents control over their careers.
Fjord was asked by the "I can't tell you, sorry" to investigate why staff at their agency felt felt disgruntled about their career trajectory and the lack of support they felt along the way. What followed was a year-long journey into the highly selective and socially biased hiring and promotional process at "I can't tell you, sorry". From our research, we developed an experimental prototype that would bring control back to the staff and help them to find the building blocks towards their professional goals.
The Problem: Because of the 'good ol' boy' culture of the "I can't tell you, sorry", advancement is based on who you know and not what you know.
The Opportunity: The "I can't tell you, sorry" already has all the necessary trainings, certifications, and networking opportunities for advancement, it just needs more direction.
The Solution: Create a digital roadmap application that leverages AI to understand what an agent wants to do and couple that to the existing opportunities that will get them there.
Skills Used

Brand Audit + Research
Brand Strategy + Positioning
Visual Brand Identity
Brand Guidelines
UX Design

Uncovering and understanding the struggles
We spent months interviewing individual CIA employees staff and leadership personnel and hosting immersive rumbles in order to dive into the existing culture at "I can't tell you, sorry". The most resounding things we learned is that 1) employees felt that the jobs they desired were being filled by less qualified, more socially-adept individuals; 2) employees wanted a clearer direction in how to advance at "Ok, I'll tell you next.".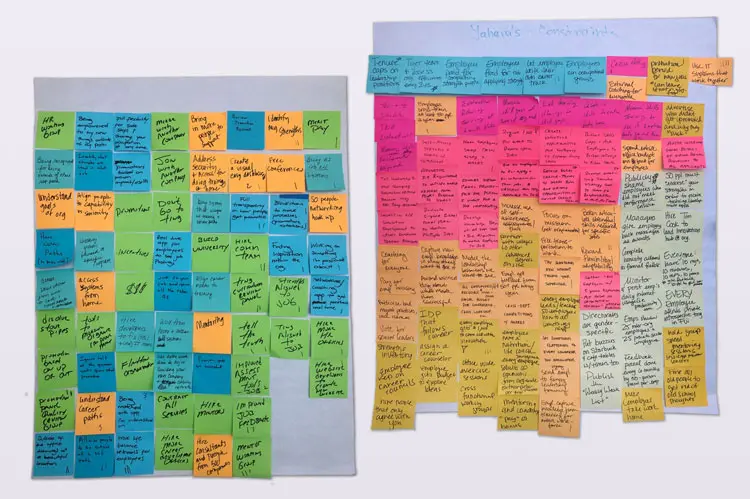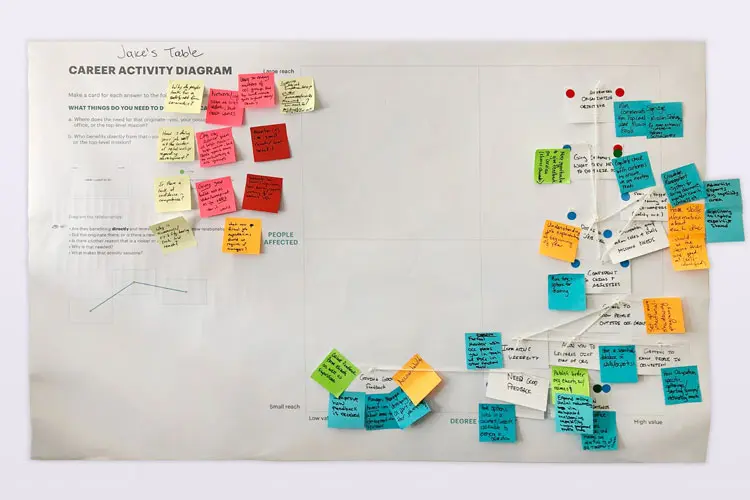 Putting it on paper
Using a comprehensive user flow, we mapped out the journey of an employee at "Ha! Got you good.". We identified and diagnosed specific pain-points, measured their emotional toll on the staff, and identified specific opportunities for improvement.
This flow allowed us to share what we've been hearing with the client and our staff and helped spark a lot of amazing conversations.

Piecing together an idea
Once we knew what problems we had to solve, the hard part began—building the tool that will solve it.
We knew two things:
We needed to create a mobile application (client requirement)
This application needed to make it unimaginably easy to know how to advance at the agency.
The good thing is that "Sorry, can't tell you." already did a great job at creating opportunities for it staff to advance. There are hundreds of courses, jobs positions, and certificates to sign up for, apply to, or take. What it didn't have was a way to parallel them with what an employee wants to do.
Leveraging AI, we created a prototype that would use a AI as a compass, combing through the existing opportunities in the agency and then collect only the ones that match its interpretation of user's career goal.
The user can then simply browse through the opportunities, schedule them, and slowly build a roadmap to their career goal.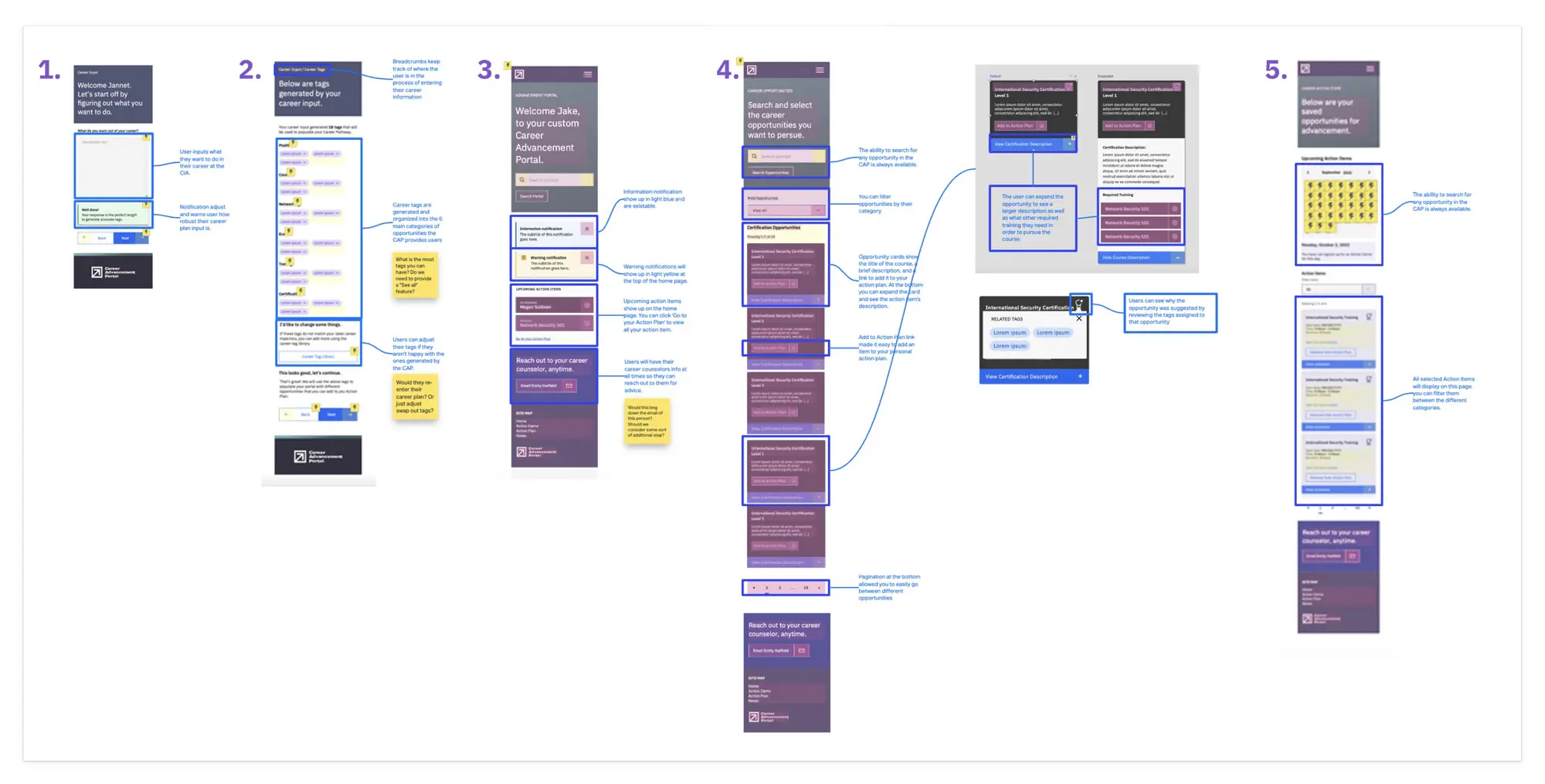 Bringing the idea to life
We made our concept-slash-application—which we called the Career Advancement Total—in Axure using the Google Mineral design system as a creative foundation.
In the prototype we had the user walk through the basic steps of Career Action Portal:
Entering your career goal.
Break down the response into career-focused tags.
Adjust and approve the generated tags.
Leverage the Career Opportunities page to search for certain opportunities.
Select opportunities to add to your individual career roadmap.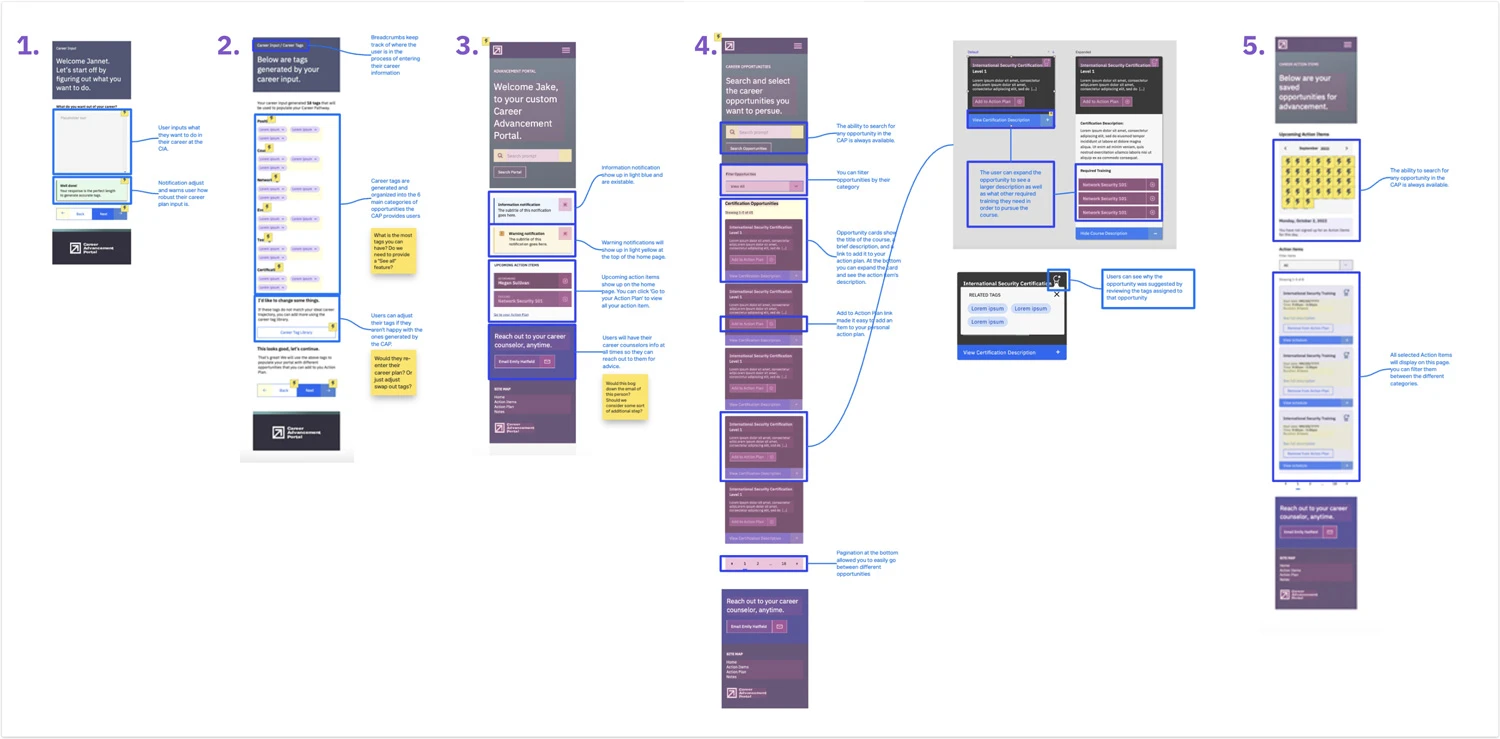 Creating the interactive prototype
Developing the prototype in Axure allowed us to easy share with our client, test with users, and make edits in real-time
Let's create a brand! Why not?
Our main initiative for this project wasn't to design a brand, but when in Rome.
I put together a quick logo and creative guidelines for the prototype. I stole the font from "Sorry, can't tell you." and found color complementary to theirs. I wanted the logo to be simple, iconic, that paid homage to success—hence the up arrow.